The Chess.com Library lets you save your games and create Collections of your favorite content to share with friends and the community.
Among the important services offered by Chess.com to improve the gaming experience of chess enthusiasts is also the Library. If you want to study a certain opening, save games to analyze them later, create lessons for students or simply show off your best victories, the Library is the perfect tool for you.
How the Chess.com Library Works
Collections are game folders that can be grouped together in your Personal Library. You create your Collections according to the objective or need of the moment. For example, if you want to study the game of the masters, its openings or a single variant, you can create Collections from the games played with that opening that you can find on the Games of the Masters page.
So let's find out what are the main functions of Collections and how to use them.
How collections are created
Collections can be created in two ways. The first is by accessing your Library and clicking on the green button on the right «Create new collection».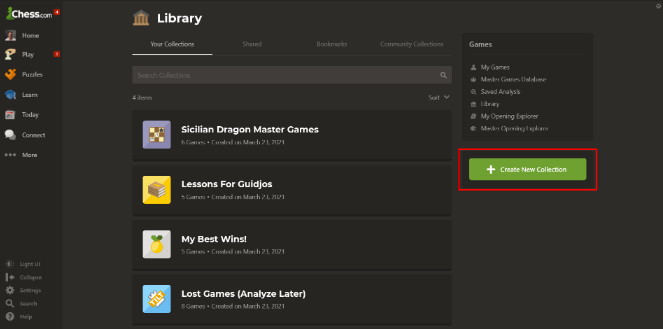 create collections
The second is to create it directly from the game you are reviewing. Once a game is over, you can immediately click on the Library icon in the lower right corner: you will see a window with the Collections you have already created and with the option to create a new one. Every time you open your Library, you will immediately find the «your collections» page.
But how do you add games to the collection? Once you've created your collection, you have several ways to add games: on your collection page, you can use Paste URL or Paste PGN. PGN is the most common format in which chess games are recorded.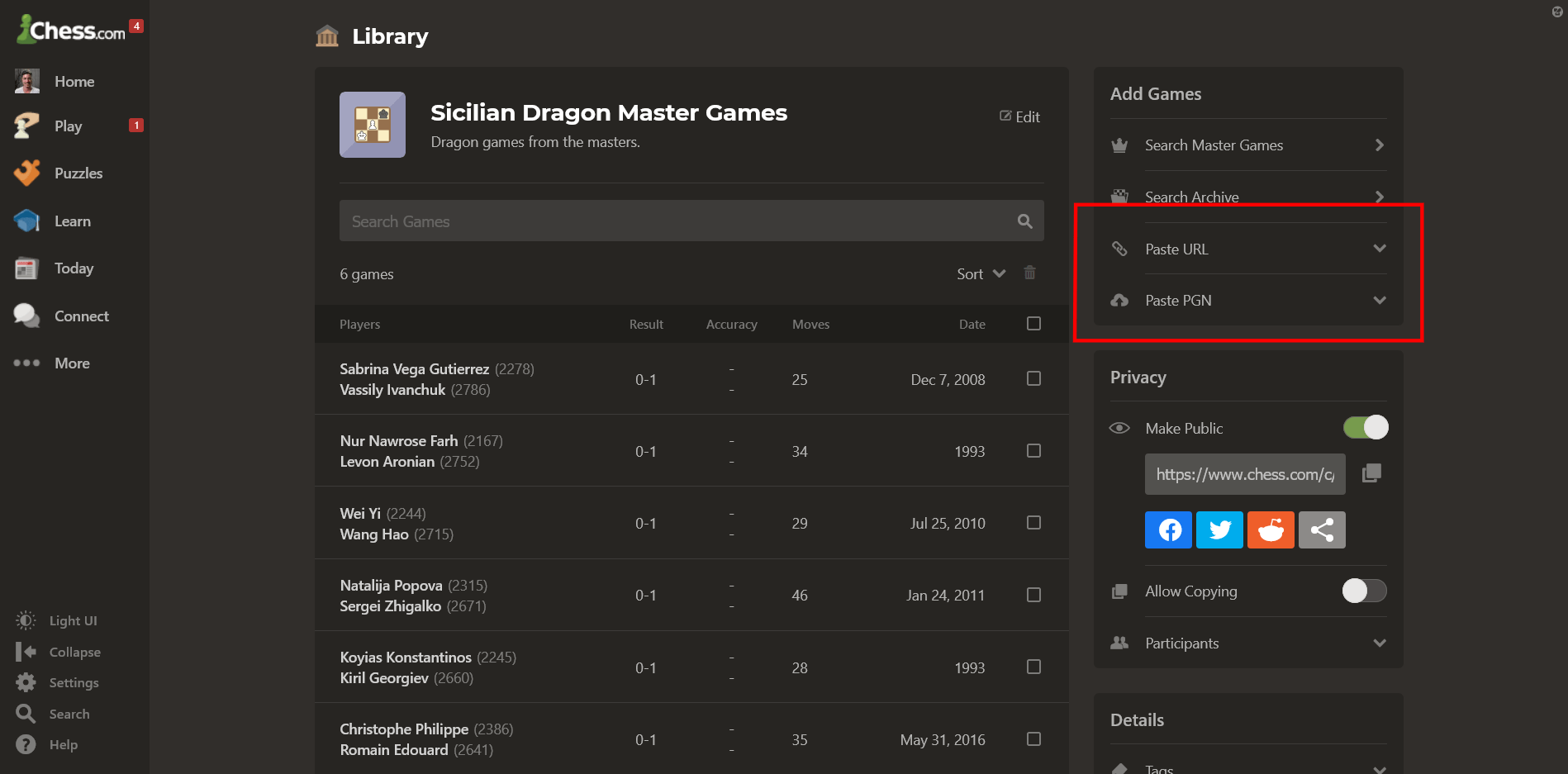 add matches
However, it is still possible to add games directly from the game page once the game is finished by clicking on the Library icon in the lower right corner.
How to share your collections
You can always share your Collections with other Chess.com users. After entering one of the collections, you can find the "participants" item on the right in the privacy box. If you enter the name of your friends, you can also share the collection with them.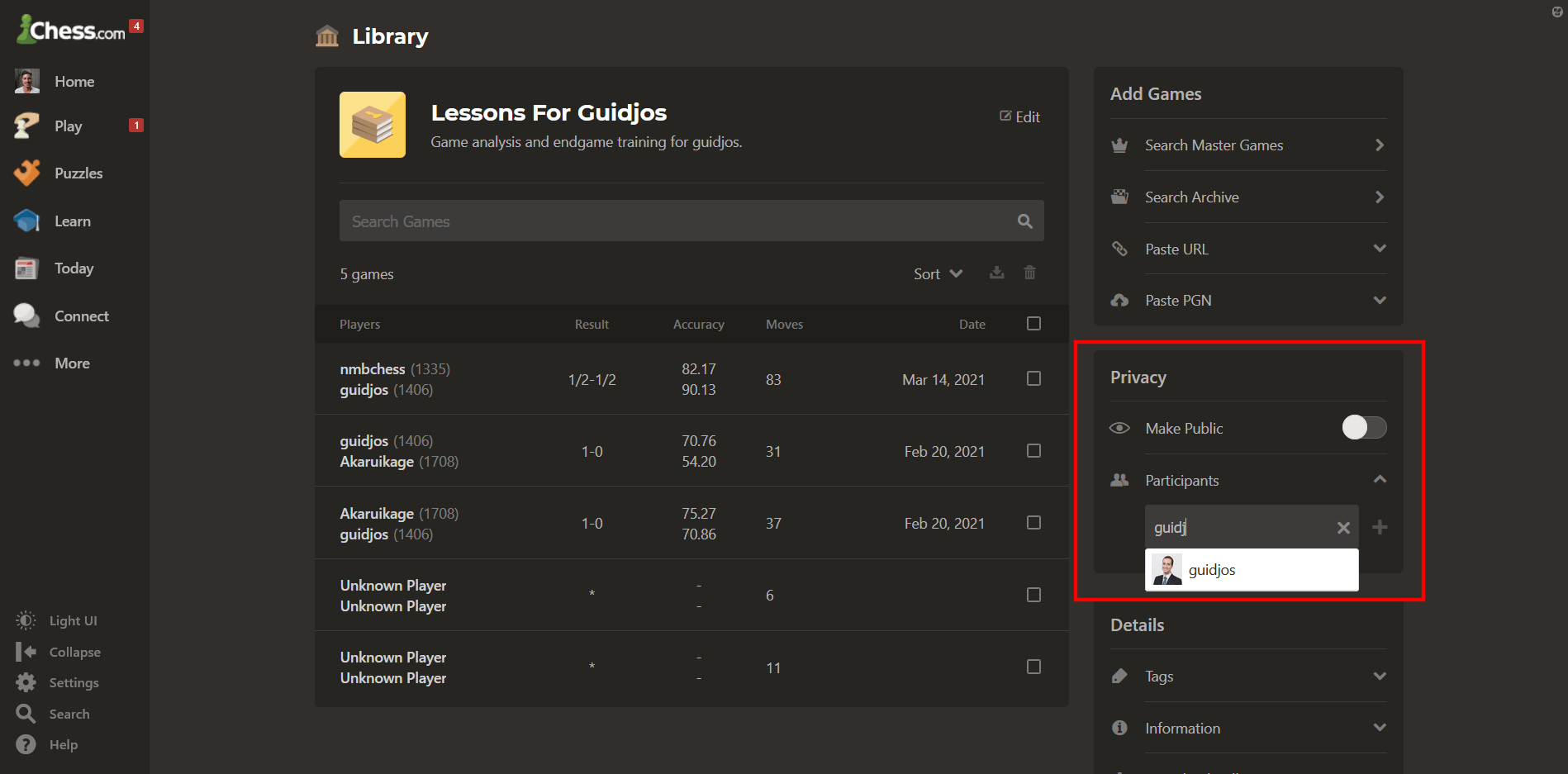 share collections
Likewise, you'll find all the Collections your Chess.com friends have decided to share with you, but that's not all: with the Library you can also create Collections for the entire Chess.com community. If you enjoy creating valuable content and sharing it with others, you can make your Collections public. How to do this? Just click on the «public» option in the Privacy menu.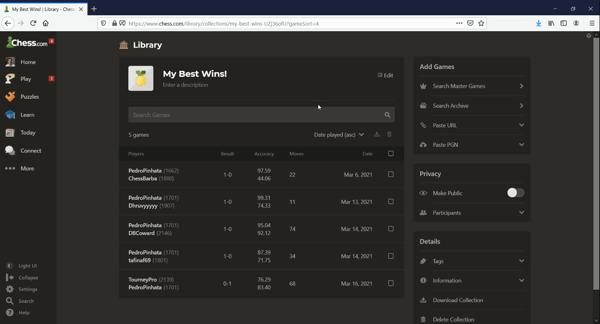 Check the plays of the match
You can find all Collections shared with the Chess.com community together on the Community Collections page.
In partnership with Chess.com
Source: Money It